If you know someone who would love an adventure in a campervan then a gift voucher is the perfect present. The great outdoors has a multitude of health benefits and has never been more important to embrace in these strange and challenging times.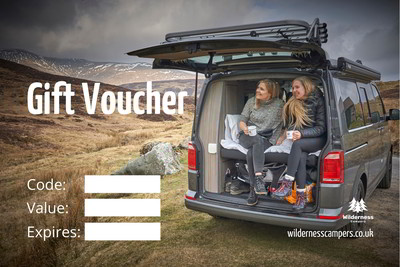 Gift Vouchers can be purchased by contacting us and can be tailored to your requirements; covering a whole adventure or alternatively a fixed value towards a trip. So why not give someone the gift of adventure!
Vouchers can be redeemed for part or full payment towards a booking
Valid for 12 months from the date of purchase (with additional extensions for any lockdown periods)
Environmentally friendly e-voucher that's redeemable on our website
Bookings will be subject to our usual Terms & Conditions
Gift vouchers are non-refundable. Unused value cannot be exchanged for cash.
Purchasing a gift voucher
To obtain your gift voucher please fill in the details below and we will then send out your invoice for payment and then your e-gift voucher.